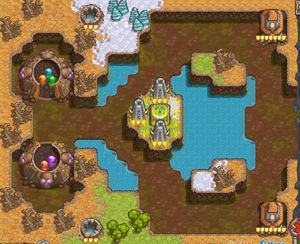 Caldera Lake is the 17th level in Cursed Treasure 2.
It rewards 63000 XP max.
These Sacred Stones are a great menace. They must be destroyed. It's even better to destroy the priestesses who watch the stones. Let's visit the lake, where the main relics of the barbarian cult are kept.
1. 1 Barbarian
2. 1 Barbarian
3. 2 Rogues
4. 3 Barbarians
5. 5 Rogues
6. 2 Priestesses
7. 2 Bards, 2 Barbarians
8. 7 Valkyries
9. 5 Kite Druids
10. 1 Berserk
11. 3 Amazons, 3 Dendrologists
12. 3 Amazons, 2 Priestesses
13. 7 Dendrologists
15. 1 Berserk
18. 7 Priestesses
19. 3 Priestesses, 5 Amazons
20. 4 Eagle Druids
21. 4 Priestesses, 6 Kite Druids
22. 13 Dendrologists
23. 13 Dendrologists
24. 9 Priestesses
25. 5 Water Elementals
26. 5 Priestesses, 7 Amazons
27. 16 Ninjas
28. 10 Bards, 8 Dendrologists
29. 17 Ninjas
30. 3 Berserks, 10 Priestesses