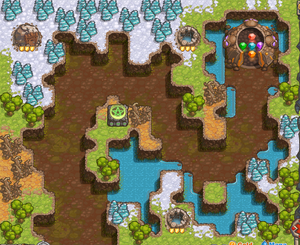 Forest Edge is the 7th level in Cursed Treasure 2.
It rewards 4500 XP max.
Mysterious Tanglewood is the Druids' land. Going deeper into the forest is dangerous, 'cause you leave the enemies behind your back. Rumor has it, that if you cut out a tree, the infuriated Druids will come to get revenge.
1. 1 Guard
2. 2 Guards
4. 3 Knights
5. 3 Kite Druids
8. 4 Kite Druids
9. 3 Bards, 2 Kite Druids
10. 1 Adventurer, 5 Rogues
12. 8 Monks
13. 7 Kite Druids
14. 10 Knights
15. 1 Eagle Druid
16. 9 Paladins
17. 10 Bards
18. 11 Monks
19.  6 Bards, 5 Kite Druids
20. 1 Templar, 1 Adventurer
21. 6 Bards, 5 Kite Druids
23. 12 Kite Druids
25. 3 Eagle Druids, 12 Kite Druids
Despite the description of the level, nothing happens if the player cuts out a tree