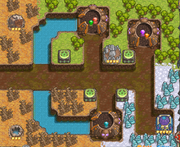 Industrial Alley is the 13th level in Cursed Treasure 2.
It rewards 25500 XP max.
The King managed to carry off several gems from under the nose of our minions. But humans failed to deliver them to the castle. They artfully hid them in 3 caves. We found the gems so now we have to protect them.
1. 1 Guard
2. 1 Rogue
3. 2 Rogues
4. 2 Guards
5. 3 Valkyries
6. 3 Valkyries
7. 3 Paladins
8. 4 Paladins
9. 4 Dendrologists
10. 1 Templar
11. 4 Engineers
14. 6 Dendrologists
15. 1 Eagle Druid
17. 9 Paladins
19. 9 Ninjas
20. 2 Eagle Druids
22. 9 Wizards
23. 12 Paladins
25. 2 Eagle Druids
27. 6 Wizards, 6 Dendrologists
28. 12 Engineers
29. 14 Ninjas
30. 2 Water Elementals, 2 Engineers