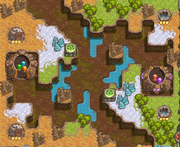 The Crossroads is the 10th level in Cursed Treasure 2.
It rewards 12000 XP max.
Plateau Arcania. The King's Academy of Magic is located in the maze of the rocky gorges. When Orcs and Demons were placing the gems, they quarreled and split up. The task isn't easy now: defend 2 caves!
1. 1 Guard
2. 2 Rogues
3. 3 Rogues
4. 4 Rogues
5. 4 Knights
6. 5 Valkyries
7. 3 Wizards
8. 6 Knights
9. 2 Wizards, 2 Dendrologists
10. 1 Adventurer
11. 2 Wizards, 3 Kite Druids
12. 6 Kite Druids
13. 7 Ninjas
14. 4 Bards, 3 Kite Druids
15. 1 Thunder Elemental
16. 9 Paladins
17. 4 Wizards, 4 Kite Druids
18. 10 Paladins
19. 10 Kite Druids
20. 1 Thunder Elemental, 2 Adventurers
21. 6 Bards, 5 Kite Druids
22. 10 Wizards
23. 13 Paladins
25. 2 Thunder Elementals, 2 Wizards
26. 12 Wizards
27. 15 Paladins
28. 14 Kite Druids
29. 15 Ninjas
30. 3 Thunder Elementals