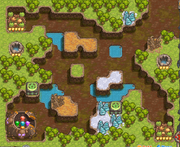 The Hidden Passage is the 9th level in Cursed Treasure 2.
The scouts report that they found the Druids' secret villages and a cave for gems close to the place. Let's kill two birds with one stone. And the main Druid as well, it means three birds.
It rewards 7500 XP max.
1. 1 Guard
2. 1 Guard
3. 2 Guards
4. 2 Rogues
5. 1 Blacksmith
6. 4 Rogues
7. 4 Rogues
9. 2 Monks, 1 Dendrologist
10. 1 Templar
11. 4 Kite Druids
12. 4 Ninjas
13. 5 Ninjas
15. 1 Eagle Druid
17. 7 Paladins
18. 7 Ninjas
19. 4 Bards, 3 Dendrologists
20. 2 Adventurers
21. 8 Ninjas
22. 5 Monks, 4 Dendrologists
23. 9 Ninjas
24. 10 Paladins
25. 1 Arch Druid