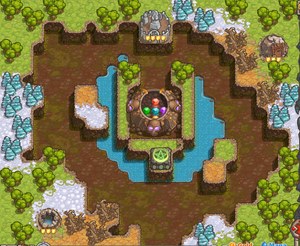 The Secluded Shrine is the 8th level in Cursed Treasure 2.
There is a sacred place in the depth of the Tanglewood. While it stands, the Druids revive from ashes and again. Your assistants have already placed the cave with the gems there, so it's time to rock!
It rewards 5625 XP max.
1. 1 Rogue
2. 2 Guards
3. 2 Valkyries
4. 3 Rogues
5. 3 Valkyries
6. 4 Guards
7. 4 Valkyries
8. 4 Valkyries
9. 3 Ninjas
10. 1 Templar
11. 5 Paladins
12. 4 Dendrologists
13. 3 Bards, 2 Dendrologists
15. 1 Eagle Druid
16. 6 Ninjas
17. 5 Dendrologists
19. 4 Monks, 3 Dendrologists
20. 1 Adventurer
21. 7 Dendrologists
23. 8 Dendrologists
24. 5 Bards, 4 Dendrologists
25. 10 Dendrologists, 7 Kite Druids