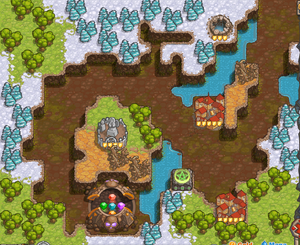 Valley of Twin Towns is the 5th level in Cursed Treasure 2.
It rewards 2625 XP max
The inhabitants hid behind the walls of their towns. We dug out a famous commander of his grave the other day. He offers a strategy: let's put the gems into an empty cave and lure the greedy humans.
1. 1 Guard
2. 1 Rogue
4. 2 Monks
5. 3 Knights
6. 4 Valkyries
8. 5 Bards
9. 6 Valkyries
10. 1 Templar
11.  6 Bards
12. 7 Monks
13.  9 Knights
14.  10 Knights
16.  11 Valkyries
17.  12 Knights
19.  13 Valkyries